dis/connected
The image of the university experience in popular culture has been painted as a pivotal point in an individual's life throughout a large portion of the 20th and 21st century. Due to the media, university is often regarded as being a highly social time when people are likely to develop lifelong friendships and possibly relationships.
And yet, the reality can be quite the opposite for many students. 46% of students in the UK have reported that they feel lonely on a regular basis, with mature, international, BAME and disabled students being more at risk according to studies by Mind.
With the pressures of meeting expectations of university life, often combined with moving away from home and the symptoms of our individualistic society, students can often feel isolated and ashamed of their experience.
'dis/connected' aims to share experiences of loneliness and isolation as a student at MMU with the goal of destigmatising the emotion whilst emphasising the importance of developing a beneficial relationship with yourself.
---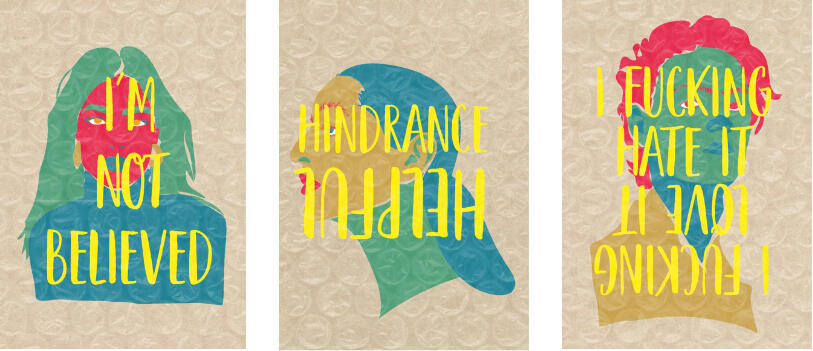 ---
Descriptions
Toby Pritchard - I am currently in my last year of a part time MA course at MMU, researching how to create a calm and peaceful environment in my work that people can see and feel somewhat relaxed in. This animation is a lighthearted attempt to highlight a character who is lonely and perpetually waiting for a friend to arrive. Hopefully you, the viewer can become that friend.
Tom Carr - I wanted to produce a simplistic piece that used the idea of loneliness in a playful way. The word is spelt incorrectly on purpose to refer to my personal opinion that loneliness is something that can't be seen on first glance and often takes someone to point it out for you to notice it in someone. The separated 'L' represents this feeling of disconnection and separation when suffering from loneliness. It was created using a stencil and black spray paint on a white cotton canvas.
Audrey Albert - This image titled "Are you Indian" is part of a series of images called "MISCONCEPTIONS", I produced during my second year at The Manchester School of Art. Misconceptions is based on a body of stupid, ignorant, funny, quirky or plain ridiculous sentences I have 'collected' since I moved to the UK. The sentences collected serve as the opening title for each photo. The end results are conceptual interpretations based on my own experiences. I would like my photos to convey the message that if you really want to know a person then you should talk to them with no pre-conceived ideas or assumptions, for we are all just people sharing the same planet.
Chloe Watts - As an illustration student, I wanted to make a handmade present for my friend. I created these pieces as part of a book that I made for my best friend. I wanted her to know that no matter what she isn't alone, and that moving to uni is a big step for everyone, and this is something that gets easier with time.
Sophie Kent - This piece is titled 'Not a Happy Bunny' and refers to my time at Manchester School of Art studying Fine art and art history. During my three years of study, I have experienced a period of considerable personal development, essentially 'losing myself to find myself'. This change has been mirrored through the state of my practice throughout and is an ongoing result of my lived experience of mental illness. The idea behind this piece stemmed from the phrase 'not a happy bunny' – something my mum would say to me when I was young and having a tantrum. I enjoy using humour in my work verging on the absurd. I believe silliness in art is underrated.
Kate Parker - My practice is informed by imagery collected from my surroundings. The process of cutting these collected shapes in turn creates new ones from the remnants; which together are used together in composition. In my work the shapes tessellate and are tangent to each other, new forms are birthed from existing ones, giving rhythm and reaction. The nature and relationship of the shapes influences their placement within the composition for a lively, improvised, result.The personification of the forms and sense of movement has the intention to engage the viewer in a primal way.
Since graduating from MSOA collage has more recently played a larger part in my practice. My collage work informed and directed by the subject and materials I have to hand. I collect old magazines and publishing's, and bring multiple images together in the aim of creating a new imagined world in a surprising, charming way.
Lotte Evans - My project focuses on images of youths and adolescents growing up in north east of England. I know this area well as I grew up in rural county Durham. I went home to take pictures in small rural villages such as Butterknowle, Evenwood, Cockfield and Middleton-in-Teesdale. These small villages, located in the south west corner of Durham, were established in the 19th century as settlements built specially for coal miners and their families. When mining ended in the 20th century, these small villages experienced massive redundancy, but even today, these small villages still feel the effect of the mining era. and the history still echoes in the landscape. It was this 'feeling' I wanted to capture – through images of young people.
First impressions of growing up in rural England often conjures up ideas of green fields, stonewalling, playing with animals and running through golden wheat fields. However, this is very often not the case. It can be a very isolating and lonely place to grow up with limited services and facilities. Generally young people find themselves bored with very little to do which can lead to anti-social behaviour such as drugs, vandalism and petty crime. This was something I was eager to capture and show as my final project. Without romanticizing or exploiting; I just wanted to show their truth. Although there are multiple photographers that capture youth around the world today I feel that the youth in northern rural mining communities have had very little attention or exposure.
Ella Jackson - My work is still in its progressive stage, but I have been following the ideas connecting us with our surroundings. I'm exploring why is it we create these connections with certain places, and why we feel these emotions when we walk down a road from our past. The memories we form and the pull which we inevitably follow.
This piece is about loneliness. How despite living fast paced, moving and flowing with society - theres no bodies around me. I am alone in a big city and I miss being free back near the beach, where being alone feels less isolating. The locations for my dances are picked according to memories, and this beach specifically is somewhere I would walk the dogs with my family daily.
Hannah Carroll - My artistic interests revolve around the city of Manchester as an entity: its people and the spaces they inhabit. I enjoy celebrating the overlooked, unnoticed places where everyday life happens. Through my paintings and drawings, I aim to bring value to the ordinary, and unearth perspectives that are hidden deep into the realm of familiarity.
Since moving to Manchester for university I have been fascinated by the experience of urban place and space. Revisiting my first-year work, now as a recent graduate, has caused me to consider again the link between place and a person's experience and emotions. The student bedroom in particular can personify any range of feelings, and can fluctuate from being a place of safety, intimacy and celebration to becoming a place of self-confined isolation and desperation.
Lauren Kearns - Whilst being at University I have had a decline in physical health and therefore mental health coinciding, and finally in July 2019 I was diagnosed with endometriosis and I'm now still on a very long road to recovery, and help. Endometriosis has created a lot of barriers to my social life, and the life I expected to be living. So therefore, relationships with people in Manchester have been restricted because my physical health just won't let me keep up with the fast social lives 'everyone' at university seem to be living. I have had a lot of time to reflect on my life, what was, what is and what is to come, a lot of time trying to form a new relationship with myself. I've always used self-portraiture photography as a way for me to feel confident in my natural form, and a way to reclaim my woman hood. These images do exactly that, they were captured in a peaceful and intimate moment of me and the sunlight coming into my safe space. The sunlight allows me to feel hopeful and see myself in a beautiful light, my bedroom is my sanctuary and allows me to feel protected from the outside world. But for now, I'm sharing these intimate moments for an insight into strength within vulnerability.
Maria Fernandez de Osso - Am I mental? are a series of prints made on bubble wrap using MMU students' testimonials around their experiences with mental health and stigma.
Unfortunately, loneliness is a big part of the stigma on mental health, and most of us who suffer from it have experienced this while being students.
With my work I aim to help people understand what we go through, to give a voice to those who doesn't always talk about these questions openly and to help erasing stigma on mental health. Sharing experiences would help us to feel less lonely, to feel heard and understood, to be aware that empathy is the key to build a better community.
Faye Hignett - Isolation can warp, stretch and bend how Time is felt. The mind wanders and unconscious thoughts appear and leave and echo around unchallenged. Both mundane and surreal questions, drift without an answer. This near stillness produces hypnotic calm and mounting tension as frustration builds and builds. I attempt to frame this experience within the somber beauty of the everyday.
Maia Turkowska - My name is Maja Turkowska and I am a second year Illustration with animation student.
I moved to Manchester from Poland just before the start of my first year.
I wanted to submit an A3 digital print of the attached illustration. It's a small piece about feeling sad even though a person could be surrounded by people.
Catherine Jacks - I would like to show a print of my collage 'Naive', as it is an expression of my inner self at an incredibly lonely moment. The piece sums up the feeling of realising you are not part of the group, despite joining in or trying hard. I think we can all relate to wanting to make friends and feel included, and as an adult it can feel surreal, maybe even shocking, to remember being a sad child sat alone at school. It can be especially painful at university when we want to make good first impressions as we know stories of uni friends becoming "friends for life!". This can be a particularly difficult period where some of us experience homesickness. We want to make connections to people but sometimes an already forged group of friends, with their in-jokes and shared experiences, don't really want you to get involved and this can be a hard pill to swallow. Feeling exposed, vulnerable, chewed up...it fits so well with this image of the decaying carcass; abandoned and consumed. It can take a lot of energy to be social, to be an extrovert, so when it fails - when we fail - to make friends or connect, we feel drained and empty. I was naive to think I could join in and I became aware of the heart-achingly sad realisation that I was unbearably lonely.
Molly Cross - This is my diary from my early teen years, showing the highs and lows of my love life (or lack of). I thought the pages were perfect for this exhibition because they show the loneliness and desperation so commonly felt during school years. I hope can find comparisons from their own teen years, and have a bit of a laugh when reading them.
---
'dis/connected' was inspired by the student officer campaign at MMU to raise awareness and destigmatise loneliness at university.
All artists featured in this exhibition are current students or recent graduates of MMU.
---
Curated by Ashleigh Kent
Follow @disconnected_exhibition on instagram for more content